www.wordtrainer.net
|
Online
|
Software
|
Mobile
|
Linux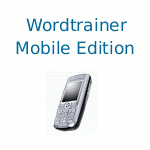 About
Wordtrainer ME is a software for practising words on your mobile phone.

See also Wordtrainer 3.0.
Download
To download the latest Wordtrainer ME to your mobile phone wap in to: wap.wordtrainer.net and click Mobile.
You may also need an free Wordtrainer.net-account if you want to download lists to your mobile.
Please see requirements.
Requirements
A Java-enabled mobile phone supporting the MIDP-1.0 standard.
Wordtrainer ME is tested with Sony Ericsson K500i and K700i.
Release Notes
Wordtrainer ME version 0.3.0
News:
The application no longer needs a mobile phone supporting MIDP-2.0.
Mixes the words before practise
Some bugs fixed
Not yet implemented:
Practise by writing the words
Settings
Remove lists
Known bugs:
Application hangs if it does not get permissions to access internet
Wordtrainer ME version 0.2.0
News:
Create a new list
Save and open lists
Download lists from Wordtrainer.net
Practise by browsing thru the words
Not yet implemented:
Practise by writing the words
Settings
Known bugs:
Usernames might not get encoded correctly if they contains special characters when connecting to Wordtrainer.net
Contact
You can contact me in the Wordtrainer Forum at www.wordtrainer.net.
---
Wordtrainer.net, markuspage.com
Copyright © 2005 Markus Kilås. All rights reserved.
Java and all Java-based marks are trademarks or registered trademarks of Sun Microsystems, Inc. in the U.S. and other countries.